Dear Members and Residents
The Mount Edgecombe Country Club Sports and Lifestyle Festival is taking place this Sunday 16th September with an array of sports competitions, entertainment, markets as well as a dance demonstration and a food and beverage village.  Do come along and bring your family and friends!
PLEASE LOOK OUT FOR A FULL NEWSLETTER ON THIS TOMORROW
We are delighted to announce that the extension of the CMH Land Rover Umhlanga Trail onto Estate 1 is now open – the trail starts by the tennis courts.  Thank you to our latest sponsor Cornubia Mall for your generosity.
Please note that The Lakes will be undergoing its annual 
Spring Treatment 
from the 10th to the 24th September.  During this time no golf will be in play and Residents are welcome to use the golf cart paths at any time but please do be careful of the equipment on the course.
For your safety please do remember that whenever golf is in play, the golf cart paths and the golf course are not to be used. 
I do hope you have a great rest of your week and please stay in touch.
Contact details  – 
desiree@mountecc.co.za 
You're welcome
Desiree Stone
Club Manager
---
---
CMH LAND ROVER UMHLANGA TRAIL
We are delighted to announce that the extension of the CMH Land Rover Umhlanga Trail onto Estate 1 is now open! The map of the entire 15 km trail will be available shortly.
USE OF THE TRAIL
The Trail is open between 17h00 and 07h00.
The Woods (Old Course 1) is usually closed on a Tuesday and trail users may only use this portion of the Trail on a Tuesday. The Lakes (old Course 2) is usually closed on a Monday and trail users may use this trail on Mondays.
At the Trail Club cocktail party on the 4th September, our latest sponsor of the CMH Land Rover Umhlanga Trail was announced and I would like to take this opportunity to thank Cornbia Mall for their support. We have had awesome support from the community with regards to the sponsorship of the Trail and I would just like to thank all our sponsors:
CMH Landrover Umhlanga
Bay Union Insurance
Durban Girls College
Estate Boss
Xtreme Living
---
BUNNIES
8-WEEK LADIES LEARN TO PLAY GOLF COURSE
Our Communications Manager, Robyn Spies, has started the Ladies 8-week "Bunnies" Golf Course at the Mount Edgecombe Driving Range.
Follow Robyn's weekly updates:
Week 4
We have now moved on to chipping – having mastered putting! Well, I certainly need more practice! Steve had us do a number of fun exercises and worked with each of us – one on one – throughout the lesson. It is interesting to see how much we have learned in just a few short weeks.
Last week Nicci Taylor, the Bunny Mum who guides us through all the rules and etiquette of golf, spoke to us about golf kit so today many of the ladies turned up in full golfing attire. Clearly all the gear and no idea! But that is soon to change!
We have grown into quite a tight-knit group and are already arranging practice sessions through our wattsapp group.
---
FESTIVAL – BOOK YOUR GOLF TODAY
We have had a number of complaints from concerned Golfers with regards to cyclists, runners and walkers using the Trail during golf hours. Children have also been sighted. This is exceptionally dangerous! We also can not have people using the Trail during a Corporate Golf Day – it really makes Mount Edgecombe Country Club look below standard.
It is therefore absolutely imperative that trail users ONLY use the Trail between 05h00 and 07h00 and 17h00 and 19h00 daily. The Woods (Old Course 1) is usually closed on a Tuesday and trail users may only use this portion of the Trail on a Tuesday. The Lakes (old Course 2) is usually closed on a Monday and trail users may use only this portion of the trail and not the new extension on The Woods.
Please note on occasion the Golf courses may be in use on the days they are usually closed. On these days the Trail is closed. Your cooperation is appreciated.
The Mount Edgecombe Country Club Sports & Lifestyle Festival – sponsored by CMH Land Rover Umhlanga on 16th September – is going full steam ahead! Bookings for all sports are filling up nicely – thank you for your support!
The aim of the festival is to bring the Mount Edgecombe Country Club Estate community together and to boost Non-Residential Membership which is vital to the sustainability of the Club. A successful Club has a direct impact on our Brand which positively affects your property values. To boost Club Membership, we will be offering some great membership packages.
Highlights of the day include:
07h00 The Prop247 Fishing Competition
10h00 The Cornubia Mall Mountain Biking and Trail Running
competition
11h00 Chipping Competition
12h00 The Golf competition
12h30 Kid's tennis
13h00 Dance show by Emma Tompson and her little dancers
14h00 Kid's putt-putt competition
15h00 Bunnies golf competition
15h30 Football competition
15h30 Bowls Demo
16h40 Bowls U50's vs over 50's
18h00 Prize giving with Darren Maule
19h00 Prize giving dinner
---
SADGA KZN Festival Week

Tuesday, 4th September – Canon FSP Interschools at Mount Edgecombe Country Club 10:00–12:30
35 Physically disabled children from Mason Lincoln School, Open Air School, and RP Moodley Secondary School played on a modified golf course designed for the Children on the putting and chipping areas at Mount Edgecombe Country Club – the home of SADGA (South African Disabled Golf Association).
Our very own Emil Maehler – an ambassador for SADGA was there!
---
OPENING OF MODIFIED CLASSROOMS FOR THE DISABLED – SPONSORED BY OUR LADIES GOLF SECTION
Mount Edgecombe Country Club is very involved in SADGA (South African Disabled Golf Association) and from the funds raised from the Ladies Golf Charity Day held earlier this year, our Ladies Golf section were able to assist SADGA in setting up this beautiful classroom for the disabled children at Open Air School.
The modified golf environments are not only for therapeutic purposes but also to teach the children the basic life skills that golf offers – honesty, integrity as well as counting (the blackboard to count their putts).
---

---
DON'T MISS MEXICAN NIGHTS ON THURSDAYS AT THE BOARS HEAD!
---
Watershed Employee of the Month – Zandile Nzuza
Congratulations Zandile! You have gone beyond the call of duty!
Thank you!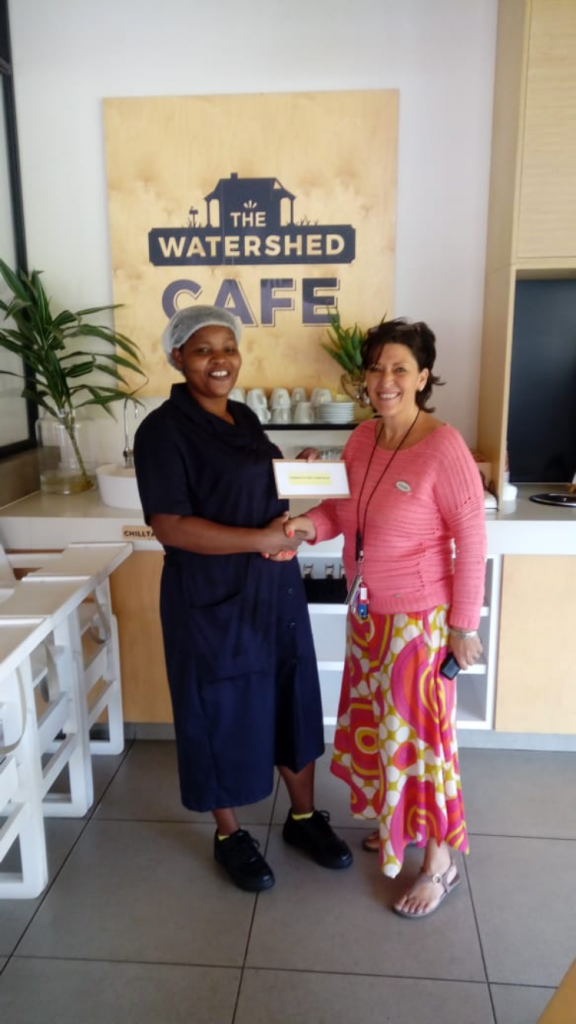 ---
 Bird Walk at Pani Dam ~ 1 September
---
Bird Club Guided Visit to Ngoya & Dlinza Forest ~ Date Change
The Mount Edgecombe Bird Club has changed its guided visit to the Ngoya and Dlinza Forests near Eshowe to Saturday, 15 September ~ it was originally planned for the weekend of 15 and 16 September 2018, but due to a clash with a Mount Edgecombe Country Club Festival on Sunday 16th, we have rescheduled.
The plan is now to leave early on Saturday morning for our bird walk in the Ngoya Forest. Afterward, we will drive on to the Dlinza Forest and Boardwalk for a picnic lunch, returning to Durban in the afternoon.
As usual, there will be a R30.00 per person charge, and children will be free.
The forests are well known for the Green Barbet, Spotted Ground-Thrush, Yellow-streaked Greenbul, and the Eastern Bronze-naped Pigeon, and we have arranged an excellent guide, Junior, to lead us.
Closer to the time, once numbers of people are known, we could organize group travel if required.
Thank you ~ Anton
E-mail: anton@mescc.co.za
Mobile: 082 458 4176
---
Arbor Week 1~7 September
Leitch Landscapes and Mount Edgecombe Country Club Estate grow awareness around the need for indigenous trees.
On 4th September 2018 during National Arbor Week (1st – 7th September), Leitch Landscapes and Mount Edgecombe Country Club Estate planted the first of a series of indigenous trees that are being donated as a result of an initiative spearheaded by Leitch Landscapes and our Residents.
---
GREENBRIER POOL IS COMPLETE!

The upgrade of the Greenbrier pool – complete with new baby pool, deck, and rail for the frail is now complete and open for use.  Upgrade of the pool and grounds at the Crystal Downs community Centre has begun.
---
Work Commences at the Crystal Downs Community Centre

---
Probus Bowls Day ~ Friday, 12 October 2018

Good Day Fellow Probus Members!
Each year we have a Bowls Match against Durban North Probus and this year it is Mount Edgecombe Country Club's turn to host.
The match will be played on the morning of Friday, 12 October 2018, followed by a light lunch and prize-giving in the Private Dining Room.
Just like last year when we WON the trophy, the format will be Mixed Trips. It is an opportunity for those of you who play the occasional game of Bowls to enjoy a fun, but competitive morning on the Greens.
Please let me know if you would like to play.  Please give me your telephone number and email address too.
Kind Regards ~ Chris Taylor
Tel & Fax: +27 31 539 4960
Cell:  +27 84 657 6188
---
Leading Ladies Luncheon ~ 18 October 2018

---
MOUNT EDGECOMBE ESTATE CONTACT NUMBERS
Mount Edgecombe Country Club:
031 539 5330
The Golf Shop:
031 539 1010
Driving Range:
031 833 0753
Mount Edgecombe Country Club Estate One:
031 502 2534
Mount Edgecombe Country Club Estate One Security:
031 539 2998
Mount Edgecombe Country Club Estate Two:
031 502 5360
Estate Two Control Room:
031 539 3144
The Watershed Cafe:
031 539 8313